To submit an insurance claim after office hours, please contact 1-877-376-5350. Intact and Group policyholders can also call 1-866-464-2424.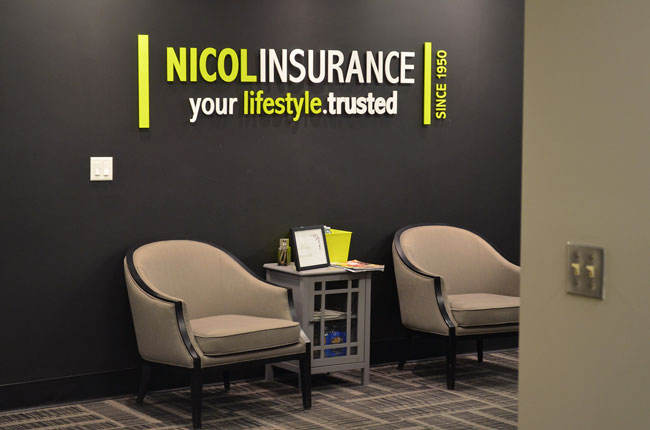 Welcome to Nicol Insurance
We are a professional organization dedicated to providing our clients with insurance solutions at competitive pricing. As a registered licensed insurance broker with the Registered Insurance Brokers of Ontario (RIBO), we work for you and not the insurance provider. We take the time to understand and assess your needs and then apply our years of knowledge and experience to shop for the best insurance coverage available. Our full-service approach to your insurance needs means that we also make ourselves available to assist you in the event of a claim.
Learn More About Us
Insurance Solutions
Our brokers can work closely with you to make sure you have the proper coverage for your lifestyle.
Find Your Broker
We pride ourselves in providing personalized, one-on-one service. We want our customers to be able to put a face to a name, so when you're in an emergency you know exactly who to call. Find your Broker below or visit
Our Brokers page
to learn more.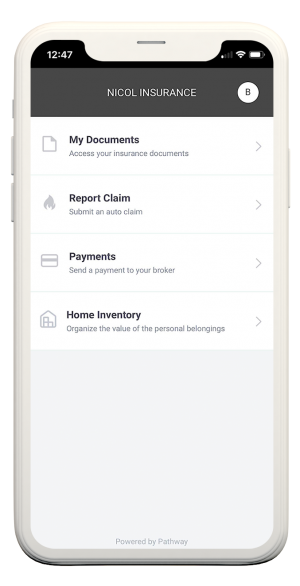 Access Your Account Online Any Time, Any Where
Are you a Nicol Insurance client? Use our online client portal and app to access your policy, liability slips, FAQs, documents, your Broker's information and more! Plus, easily submit a claim and track its progress all in one place.
Access The Client Portal
My house and car had been insured for decades with an insurance company which had a competitive rate but the broker for this company was very difficult to communicate with. I spoke with the broker only a few times ever, but each time I spoke with whoever was in charge of my file I was made to feel as if I was inconveniencing them and that they were doing me a big favour by listening to my questions. When mentioning this problem to someone, that person recommended Jaclyn at Nicol Insurance to me. I phoned her and even though she researched and found out that the company I was insured with was at the lowest rate, I was relieved to have finally found a broker who treats me like a valued client and answers my questions whether by phone or by email. Nicol Insurance now is my broker for both my house and my car, the transfers cost me nothing and my rate did not increase because I was starting with a new broker.
I own a condo in downtown Toronto which a friend rents from me. My main concern was liability, my biggest fear being someone falling off the balcony. The condo corporation management company recommended an insurance company to me but when I researched them I found that they were not a company I wanted to be insured with. Nichol Insurance had also been recommended to me so I contacted them and spoke with their representative Jaclyn at the Port Elgin office. She made the insurance package purchase transaction very simple and I have automatic monthly payments through my credit card. A short while ago a relative told me that he had changed his plans for purchasing a Tesla car for which he had been saving for a very long time — he said that the insurance rate had now become too high which was all that was preventing him from his purchase. I told him to phone Nichol Insurance — he also spoke with Jaclyn and about ten days later was driving his new Tesla.
Wow Tricia, you are super fast! I have told my colleagues that this is what is called service with speed. I will ask others to change over to your company whenever they can. Thanks again.
I have been insuring my home and vehicle with Nicol Insurance for the past 8 years. I feel, I should give credit where it is due…On the many different occasions I had to deal with the company for a variety of reasons, I must say, I have always been looked after very well; in fact exceptionally well. I would like to specifically point out my main contact, Denyse Faulkner, who has been such helpful and pleasant lady. One who always listens, who has never made me feel that I am "bothering her with my many questions" and was very straight forward about telling me what is best and most economical, what is necessary and what is not so much, and kept my cost on a reasonable and affordable level. I find her very professional, yet always graceful and confident in all interaction I ever had with her. Big thanks to you, Denyse!
Shelley Colley has been our insurance broker for over 30 years. In that time, she has provided truly outstanding service in offering solutions for our home, vehicle and travel insurance needs. These solutions were often customized and modified to our changing circumstances. Shelley has been pro-active in calling us and recommending policy changes when better offerings became available. It has been an absolute pleasure having Shelley as our insurance broker.
I've had the pleasure of working with Lynne Kazarian as my agent for ten years. Over that time I've held policies for several properties. Lynne has continually been proactive in finding me the best coverage and is always readily available to answer questions or make any changes. Lynne's friendly, professional manner ensures it's always a pleasure to do business with her.
I have been a member of Nicol Insurance for many years. Recently I have gone through many major changes in my life, which involved both my home and auto insurance. My telephone contact had been with Toni Souza and she has been an amazing help to me. She responds ASAP. She explains any questions to my satisfaction. I would not hesitate to recommend Nicol Insurance to anyone, friends or family. I am a very satisfied client. I told Toni that she is my "new best friend " and I have her on my "rapid dial".
We have been working with Kate at Nicol Insurance for two years. We love the personal visits we get with our broker. She takes the time to understand what's important to us in protecting our business and reviews how our insurance relates. Deciding to work with Kate and Nicol Insurance has been a great choice for us.
— Gerald Madill
We have been customers with Nicol Insurance for a number of years. We have always found them easy to deal with, quick to help, informative and pleasant no matter the situation.
Janie and Brent Richardson
I would like to say we have been clients with Nicol Insurance for years for home and auto. We have been very happy with the experience and service we have had. Nicol Insurance has been helpful answering questions and have gone above and beyond to help us if needed. Thank you and keep up with what you do all around.
As a local business owner, Nicol insurance has guided me along the way helping with appropriate insurance coverages for my business. When I submitted a claim recently, it was a painless experience. Because of their customer service and professionalism, I trust Nicol Insurance with all of my insurance needs; business, home, auto, and group benefits for my employees. One-stop-shop.
McCartney Property Maintenance Ltd.
Being a new client to Nicol Insurance we feel comfortable that our needs and our greatest assets will be well taken care of. With Megan and Matt we know we are always well looked after and cared for. They are both very knowledgeable and explain in great detail our coverages. We would be happy to recommend Nicol Insurance to anyone.
4 Wheels Performance Inc.
Rebecca has been great to deal with when it comes to our insurance needs. She came into our business and got things straightened around to make sure we were covered for everything that we need in our business. She is always quick to respond and does it with a smile as well.
I just wanted to let you know that I received exceptional service when dealing with Ana Borges. She was able to help me with all my questions and concerns with my new insurance policy. She was always friendly and professional and this, I believe, is a trait many people lack. My mother and father are also clients and her ability to communicate with them, even though they only speak Portuguese, was very much appreciated. I would definitely recommend her to my friends!
We moved to Nicol Insurance as it was a better price and more coverage. Amanda did a great job and was quick to get back to us and explained the policy well. Nicol seems like a good family insurance company who values their customer, and gets them the proper coverage for the best price. Nice to see local people working in a local company. Thanks again Amanda!
Krista has been an absolute pleasure to work with. She is tremendously knowledgeable, attentive and accommodating. Her response to email and telephone correspondence is extremely punctual. Her customer service is second to none. I would highly recommend working with her and I will continue to do so in the future.
WAVE Equipment Ltd has been a client of Nicol Insurance since we opened our business in 2010. Our account executive, Rebecca MacVicar, listens to our needs and has always looked after us with excellent service and timely answers on any questions or concerns we may have. We would recommend Nicol for any insurance needs you may have. We feel that Nicol Insurance is an integral part of our business and look forward to working with them for many years to come! Thanks to the team at Nicol Insurance, keep up the great work!
Rick and I just wanted to say thank you for always looking out for our insurance needs. We know that when we contact you the issue will always be dealt with properly, with our best interests at heart, and in a timely manner. We know to that you keep an eye to the future; i.e., possibly looking for another more competitive insurer when our auto renewal comes up. Keep up the good work!
When it comes to insurance anyone who's had a bad experience is the past can be sceptical. However, since becoming part of the Nicol insurance clientele we have been nothing but satisfied with our experience. We have both personal insurance and business insurance, and unfortunately have had to use both; but submitting a claim was easy and even better when you can talk to a real person locally. The transfer was smooth — Nicol took care of everything — now we have our home and business insurance all conveniently in the same place.
We have NO time to worry about our Insurance, but working with Matt this year made it much easier! Not only did he save us a bunch of cash, he also took the time to learn our operation and put the proper protection in place. We strongly recommend giving him a chance to do the same for you.
Provincial Tank Lining and Inspections Inc.
Until working with Matt we have never had a broker that uses such a proactive approach. He constantly checks in to see if there are any changes, and gets in front of us well before our renewal date to prevent any surprises. The renewal is hand delivered and gone through line by line; not just another envelope in the mail. Matt has really highlighted the value of an Insurance broker and he is delightful to work with.
Having dealt with several insurance companies over the years, we have to say, Matt was the first broker to take the time to come out to the farm, learn about our business, and milk our cows with us. He found holes in our coverage that we didn't know about and saved us money at the same time. Matt is extremely passionate about what he does and goes the extra mile to understand the unique world of agriculture.
We never really knew what an insurance broker was supposed to do until we met Matt. We are a large towing company with a large fleet and had the same broker for ten years and didn't even know what he looked like. Matt has been here working with us constantly with risk management and helping get our CVOR rating to benchmark status. We couldn't image not having Matt in our corner helping us to stay protected and organized as we grow. He is highly recommended by us!
We are a large Cash Crop company and Matt's Annual review process along with his organization for our property and equipment, has made it very easy to review everything we insure. Being in the farming industry we don't have time to worry about coverages and Matt takes that worry away from us. Each year he educates us on new coverages and risks within our business and at the same time provides a competitive price. We encourage other farmers to let Matt help them!
We were not happy with our current insurance provider and Nicol Insurance made it easy for us to transfer all of our policies. They reviewed our coverages, made recommendations and explained in layman terms the coverage details. The broker was very efficient and knowledgeable and we found the whole customer experience professional.
Lindsay and Tyler Sweiger
It is without hesitation that we provide a testimonial for Nicol Insurance Inc. They quoted our automobile, homeowners and life insurances, and of course we were skeptical that they could do any better than our current provider. And then they surpassed our expectations and previous quote! They provided us with a very detailed quote and options to fit our specific needs, and wants when it comes to insurance. Jaclyn is a terrific broker who always kept us organized of what actions needed to be taken care of, and the steps we needed to continue in the switchover process. She was very mindful of customer satisfaction and even came to our home to process some of the paperwork. They are also an organization that gives back to their community, a trait we find highly commendable. We would highly recommend the professionalism of Nicol Insurance Inc.! 
We could not be more thankful and confident in our insurance through Nicol. After going through a major flood claim we were more than pleased with the service and compassion that was shown during a very difficult time.  We highly recommend Nicol to protect your family.
Brandon MacLean, Peninsula Property Guardian
I was pleased with the in-depth review of coverages when I recently set up a new commercial car insurance policy with Nicol Insurance. I was also happy with the motivated attitude of my broker in setting up the policy in a timely manner. My broker was also very good at communicating with me during the application process. I feel more comfortable that I am properly covered now. 
Get a Free Quote Online
Getting started is quick and easy with our online auto payment calculator. Get a quote in under five minutes and feel free to give us a call if you have questions or would like to move forward with your quote.