When it comes to meeting the needs of our clients, Alyssa Beattie is one of our most important team members. She has been one of our RIBO-licensed Account Managers in the Kincardine office since 2011, and works incredibly hard at giving our clients the personal attention they deserve. As a graduate of Fanshaw's Business Insurance Program, Alyssa has a love of learning. She's glad that her role at Nicol Insurance lets her continue to learn and grow through the relationships she's formed with clients and coworkers.
Outside of the office, Alyssa loves to spend time with her family, friends, husband Kyle, and feisty cat Sophie.
Business Insurance Program diploma from Fanshawe College
What is an Account Manager?
As an Account Manager, Alyssa is responsible for personal changes to your policy along with billing inquiries. If you're adding a new driver to your vehicle, looking to adjust your deductible, or have any questions about your coverage, the account manager is who to call. She's here to make sure your policy is up-to-date with all the coverage you need.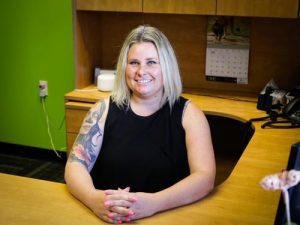 Alyssa works closely with Account Executive, Krista Holtby. Krista can help you through any claim; providing guidance and advice on how to proceed, while working with you or your insurance company for the best results. She's also responsible for ensuring you're getting the most competitive premium. Every year, your Account Executive will check in with you to review your policy and provide updates on new available coverages that may be important to you. Contact Krista Holtby.